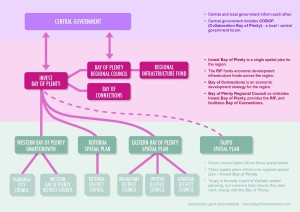 Invest Bay of Plenty is a joint project which involves the region's eight local authorities working together with New Zealand Transport Agency to create an integrated spatial plan for the entire Bay of Plenty. Invest Bay of Plenty is taking a region-wide view of economic and social challenges and opportunities across the Bay. Through the project, the partners are developing a common set of population, labour force and economic projections, a unified and clear picture of regional priorities and a shared, proactive approach to solving current and future problems. The Invest Bay of Plenty regional spatial plan will drive change and reduce uncertainty for business and communities in the Bay of Plenty by:
Confirming our common future

Ensuring alignment and efficiencies across local and central government organisations

Identifying priorities for funding and resources

Promoting economic growth in the region's most productive and sustainable sectors
To date, local and Central Government agencies have been planning in relative isolation, using different data about population and employment trends, and based on different priorities.
The Bay of Plenty comprises areas of rapid growth and relative wealth, severe deprivation and disparities in access to a range of goods and services. Some of these differences occur across jurisdictional boundaries which may mean one organisation is not aware of the challenges of another.
Each district has its own priorities and challenges, but our communities and businesses are interdependent on each other across the region.
The future is uncertain but indications are that a strong population aging trend will significantly change the types of business activities, housing, social services and infrastructure that are in demand, and bring new challenges for employers and public funders.
THE SOLUTION AND PARTNERS
By working to a common set of projections and goals, the collective skills, experience and influence of project partners and other business, government and community investors can be harnessed to create the best possible future for the whole of the Bay.
Development of the Invest Bay of Plenty plan will provide a mechanism for local and subregional communities to articulate their issues and their priorities in a Bay of Plenty-wide setting. It will enable each district to more fully realise the benefits of their strengths by leveraging those in the context of the wider region.
Collaborating across the region to identify and fill gaps in infrastructure and community services will enable each district to make savings and focus their investment in areas that will generate the greatest benefits to their communities.
The plan will help Central Government decision-makers to understand the wider and relative benefits (and costs) of particular projects in a more strategic way than is currently possible.
The plan will work across existing legislation, including the Land Transport Management Act, Resource Management Act and the Local Government Act, and is being developed in parallel with local planning processes, so that each can inform and support the other.
Project partners are Bay of Plenty Regional Council, Tauranga City Council, Rotorua, Kawerau, Opotiki, Whakatane, Western Bay of Plenty, Taupo and South Waikato District Councils.
The partners are represented through a Leadership Group (appointed by the Triennial) comprising the Mayors of Rotorua District, Kawerau District and Tauranga City councils, Bay of Plenty Regional Council Chair and the Chief Executives of Tauranga City, Bay of Plenty Regional and Opotiki District Councils.
The Leadership Group is supported by a Senior Officials Group of senior managers from each of the nine partner councils as well as NZ Transport Agency.
RESULTS
The leadership group agreed to work together on seven focus areas:
Settlement patterns: Predicting and managing where people choose to live and work so that future needs for utilities and services, such as health and education, can be readily determined.
Employment: Projecting where there will be future labour shortages and surplus. This will assist industry, the tertiary sector and others to take advantage or respond to the labour market.
Infrastructure: Identifying regional priorities to help plan for and set sustainable levels of service.
Ageing: Gaining a more detailed understanding of how trends in spending, services demand and supply and other factors will change as a result of the aging demographic.
Maori Economy: Improving understanding of how Maori can and will use their assets to generate wealth for their people in the post-Treaty settlement environment
Environment: Predicting what natural resource limitations may affect future economic growth, and identifying opportunities to enhance the social and economic benefits of environmental enhancement work.
Lifestyle: Gaining greater understanding of migration drivers to better predict settlement and population change and how these can be influenced.
Research which provides robust predictions and detailed information about key challenges and opportunities for the region associated with each of these focus areas is now complete.
Options analysis based on that information is now being incorporated into local and regional planning processes.
Image: How Invest Bay of Plenty works